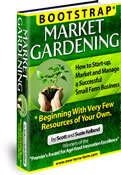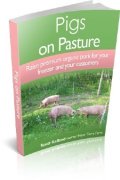 What you need to know when you buy a farm
If you are considering a move to the country and plan to buy a farm, this article has some information that can help you through the process.
But first, a bribe valuable information resource.
My books and other resources I recommend
Complete Start Farming Pack 3 Businesses in One - Premium Start Farming Pack w/AUDIO
Bootstrap Market Gardening Money Grows in your Garden
Raise Meat Chickens Profit from Pastured Poultry
Raise Pigs on Pasture Growing and Selling Premium Pork
Get a Farm Coach Get help from a Farm Coach
Gardner's Secret Handbook Free Gardener's Secret Handbook
Site Build It! Grow a REAL work-from-home business
Want to get ALL my books and courses for free? If you are planning to buy a rural property in Eastern Ontario, you are eligible to receive over 100 megabytes of valuable farm business information. Books, training course, and specially-designed software, all about how to successfully start-up, market and manage a small farm business.
If you have ever thought about making some money on your new farm, you need this information. All the books, courses and software will be delivered to you on CD - a $400 value.
To get the CD, just list or buy your property through my real estate connection (who happens to be my daughter, so I can tell you with total objectivity she is an excellent agent;-)
To get started, fill in the form below, and she'll get back to you to see if she can help you realize your small farm dreams.
https://www.e-junkie.com/ecom/gb.php?ii=1208063&cl=75966&c=ib&aff=298436